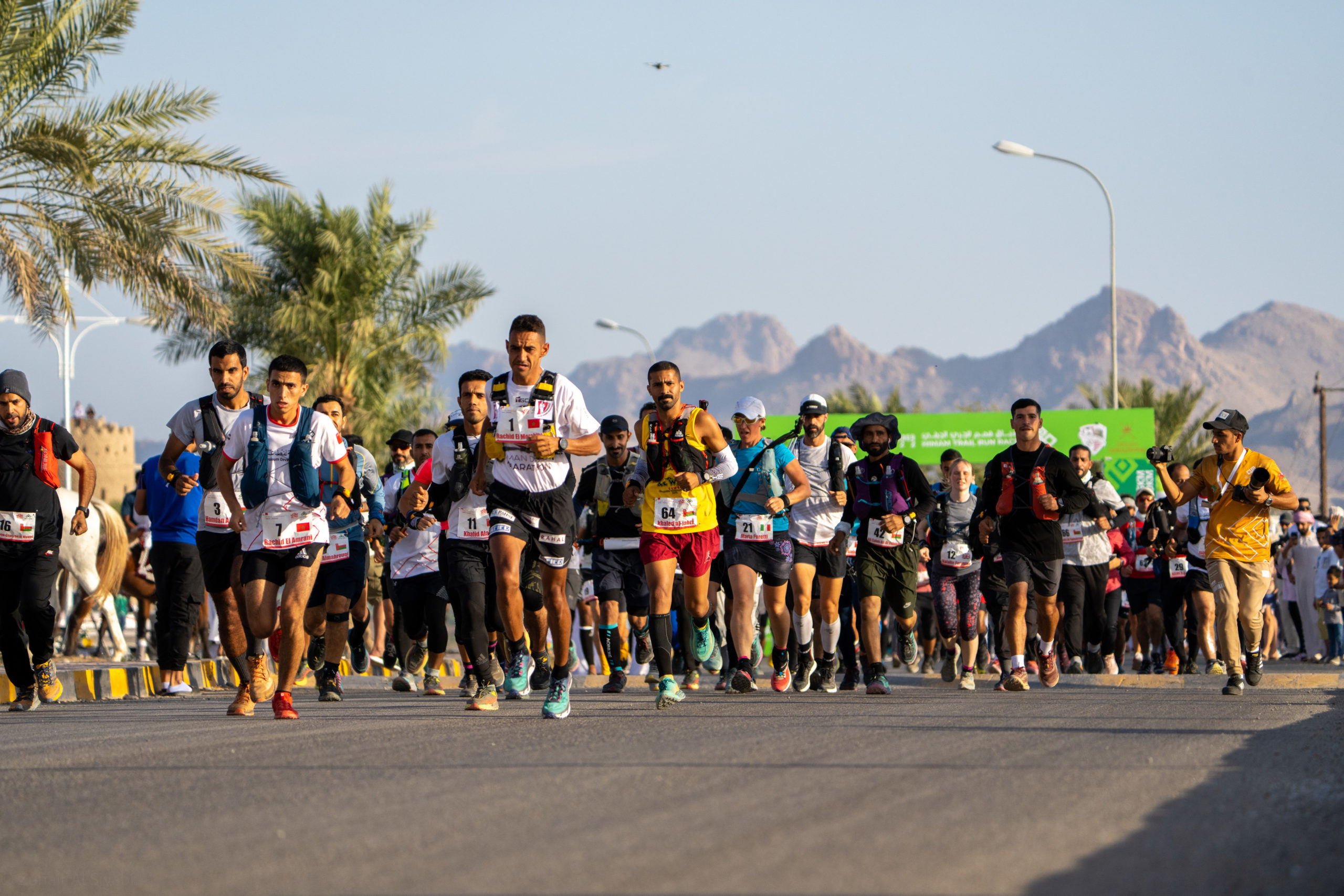 Details revealed and registration open for November 2023
February 26, 2023
Taster Run wrapped up at Al Jabal Al Akhdar Festival
August 20, 2023
Jabal Akhdar Taster Run – A Preview of the Ultimate Trail Adventure
A trail running experience amidst the majestic landscapes of Jabal Akhdar awaits as the Taster Run takes center stage. This prelude to the highly anticipated Himam Trail Run Race promises a short but exhilarating journey through the heart of this enchanting destination.
With the 10KM race, participants will get a taste of the rugged terrains, breathtaking views, and stunning vistas that define Jabal Akhdar. From ancient villages and terraced gardens to deep canyons and dramatic cliffs, every step immerses runners in the natural wonders of this captivating region.
The journey begins from the top of the village of Sayq, near the Amir of Qatar castle, before weaving through the farms of Al Shreejah, leading to the picturesque village of Al Ain and the feed station point at Al Aqr. Runners will then navigate between dirt paths and asphalt roads, passing by the farms of Saih Qatana, before reaching the second feed station at Hayl Al Yiman. The path continues to ultimately culminate at the finish line in the public park near Dusit2 Naseem Resort, which will also be the location for Jabal Akhdar Festival.
For the little ones, aged 12 – 15, and looking for a rewarding adventure, the 4KM race offers a one-hour journey from Hayl Al Yiman, to the same finish line at Park 2.
"As the main event, the Himam Trail Run Race in November, approaches, the Jabal Akhdar Taster Run provides a glimpse of the incredible trails that lie ahead," states Mohammed Al Riyami, committee leader of the event. "Whether you are an experienced trail runner or new to the sport, this race will leave you inspired and eager for more."
The Jabal Akhdar Taster Run unites trail runners and families in a celebration of the sport amidst the breathtaking landscapes of Jabal Akhdar.
Trail Details:
10KM Race:

Date: August 18, 2023
Start Time: 4:00 PM
Start Location: Amir of Qatar Castle
Finishline: Park 2 (near Dusit2 Naseem Resort)
Race Duration: Two hours
Total Climb: 380 meters
Feed Stations: Al Aqr (4.5 km) and Hail Al Yiman (8 km)
Mountain Trail Ratio: 70%
Asphalt Road Ratio: 30%
4KM Race:

Date: August 18, 2023
Start Time: 5:30 PM
Start Location: Hayl Al Yiman
Finishline: Park No. 2 (near Dusit2 Naseem Resort)
Race Duration: One hour
Total Climb: 70 meters
Registrations open until four hours before the race.